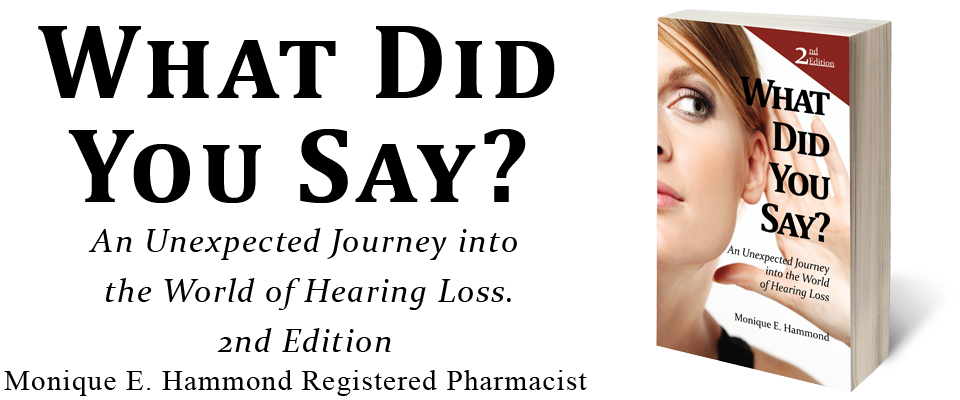 Visit our Facebook and Twitter Pages.
What Did You Say? offers insightful, important information for anyone faced with hearing loss or with a family member or friend with hearing loss.
What Did You Say? is the book author Monique Hammond wishes she had when she was coping with and trying to understand her own sudden hearing loss. Weaving together her story with a wealth of information—causes of and types of hearing loss, audiology tests, hearing instruments and listening devices, support groups and organizations, resources and checklists, to name a few— Hammond's wisdom and insight is invaluable, and her story is one that needs to be shared.
The First Edition has already provided guidance and support to many throughout their own hearing loss journey.
This newly revised second edition provides its readers with:
Noise-induced hearing loss research news
Expanded Assistive Listening Device (ALD) and Hearing Loop information
Aural Rehabilitation for hearing aid and implant clients
News on implantable hearing devices (including cochlear, bone-conduction and others)
Over 50 new diagrams, pictures, charts and graphs
What Did You Say? provides readers with the information to understand their conditions, be involved with their care, persevere, and become their own patient advocates.
"A terrific academic job putting together the problem of hearing loss as it can affect lives in a very serious and personal manner."
– Michael M. Paparella, M.D., President of the Paparella Ear, Head & Neck Institute, Professor & Chairman Emeritus – Department of Otolaryngology University of Minnesota – Founder of the International Hearing Foundation (IHF)
"The book is very interesting and powerful in how it conveys the disability associated with losing a sense we usually take for granted…"
– G.K., M.D., Doctor of Internal Medicine
"Sharing your experiences and expertise with others is such a gift… turning adversity into an amazing life and learning experience."
– S.S., Communications Consultant
"…the book is the most comprehensive source for hearing loss I have come across…weaving the material with your personal story made the book even more interesting.  Bravo!"
- E.B. reader with hearing loss
"…I have had hearing loss all my life, I learned more from reading this book than I have before…I have read the book twice…
- R.LO. reader with Ménière's Disease and hearing loss
"…I loved the book – especially the Checklists…after reading it, I felt like I had a friend at my next doctor visit… I almost could hear Monique in my ear…
- K.S. reader with hearing loss
------------------------------------------------------- 
For information about the book or
theauthor's training and speaking work , please see moniquehammond.com 
or contact her at  monique.hearing@gmail.com
also you may call at 612-729-0106
------------------------------------------------------- 
WHAT'S IN THE NEWS
In this place, I will be posting links to articles, my blog and any information that might be interesting for people to know or to learn more about. I do not endorse authors or products or manufacturers. So, these posts are for information only. Learning is an ongoing process and never stops.
You might find that the content may overlap with Facebook or Twitter. I will double-post information because not everybody is on Facebook and Twitter. I simply want to include as many people as possible.
****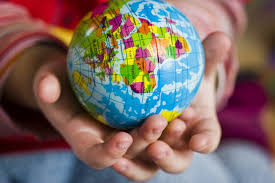 2/28/2018: On March 3rd,  the WHO (World Health Organization) holds its annual World Hearing Day. Some thoughts on the 3 key topics chosen for this year.
https://hearing-loss-talk.com/blog-hearing-loss/f/world-hearing-day
*****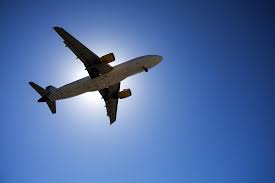 2/23/2018:  Air Travel with Hearing Loss? Learn about the ACAA.  Here is  a link to a good summary on practical advice and rights.
http://www.hearingloss.org/content/air-carriers-access-act-acaa
*******

2/1/2018: It has been a while since something truly ground-breaking happened in the World of Hearing Loss. But now there might be good news. When we are in a crowd, to whom do we actually really try to speak? Studies are under way whether hearing aids might be able to read our minds.  Once it has been determined who  our preferred conversation partner is, the hearing aid singles that voice out and amplifies it for us to hear and understand better. All of this happens in mere seconds, of course. Fetching notion!  Read all about it: 
https://eurekalert.org/pub_releases/2017-08/cuso-cha080117.php
*****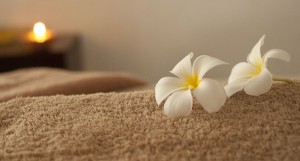 9/7/2017:  Tinnitus, known a s ringing in the ears,  can be greatly aggravated by our emotional reactions to it. To learn more about Tinnitus, see my book  Chapters 25, 26, 27. Here is a link to my blog on the issue.
https://www.linkedin.com/pulse/tinnitus-three-steps-calming-emotions-monique-hammond
*****

9/7/2017: Technology News: HearScope, A Smartphone app with Artificial Intelligence (AI) can now assist in diagnosing 5 different ear conditions.  Amazing!
http://hearinghealthmatters.org/hearinprivatepractice/2017/hearscope-smartphone-otoscope-artificial-intelligence
*****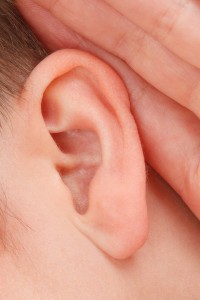 8/4/2017: Big News! The  Over-the-Counter Hearing Aid Bill just passed the Senate. It had cleared the House earlier. This bill is meant for giving people with hearing loss easier and cheaper access to hearing help.
It will be a while before this becomes an in-store reality. The FDA has to establish guidelines; instruments have to be submitted for approval etc. However, it is important to know that Over-the-Counter hearing aids are not for everybody. People with a complicated and/or pronounced losses will still need those instruments that can specifically address their problems.
It also means that as consumers we must become a lot better informed about hearing loss, tests and technology - because decisions and responsibility for  our hearing Safety will be up to us.
There is no better time than the present for studying up. To read article:
http://hearinghealthmatters.org/hearingnewswatch/2017/senate-passes-over-counter-hearing-aid-act-2017/
*****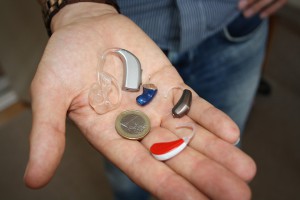 7/31/2017: Hearing aid  technology is complicated. However, we must know at least the basics in order to make sense of the various features that hearing aids offer. See my book Chapter 30 to learn more.
Here is a link to an article that lists the 7 advantages  that modern-day instruments offer.  https://blog.hearingyourbest.com/7-features-of-the-latest-hearing-aid-technology
*****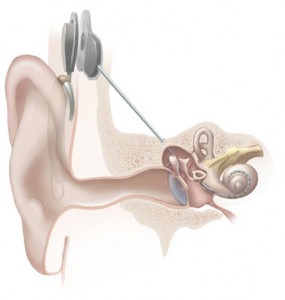 6/16/2017: Interesting demonstration of cochlear implant sound quality through time. The latest results are so much better but still have limits. Preserve hearing! Stay out of noise and protect the ears. To read up on the basics of cochlear implant surgery and technology, see the second edition of my book Chapter 38, pages 297 -306. http://fauquierent.blogspot.com/2015/06/how-good-is-sound-with-bionic-ear-audio.html
*****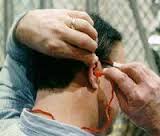 6/13/2017: In order to protect hearing, ear plugs must be applied correctly. Most people never read the manufacturer's instructions. Here is the link to a YouTube by Howard Leight - Honeywell Safety - on how to correctly insert a basic set of ear plugs. Learn for yourself and teach others  https://www.youtube.com/watch?v=ghNFKsxJuvY
*****
4/28/2017: Hearing aid electronics are becoming increasingly complex. New features and wireless connectivity empty the batteries pretty fast. So, how about rechargeable hearing aids? Now manufacturers are offering just that. Although I do not promote any device or company, it is important to learn about what is out there on the market. One example:     https://www.phonak.com/com/en/about-us/rechargeable-os-technology.html
*****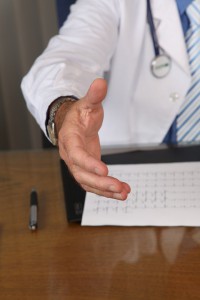 This may seem very basic. But making an appointment with a doctor in a specialist group can be tricky. Here is what can happen when making an ENT (Ear, Nose and Throat) appointment. http://moniquehammond.com/hearing-loss-careful-making-ent-appointment/
****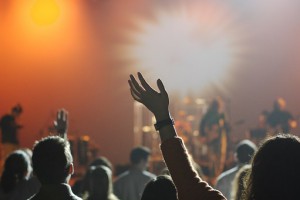 4/7/2017:  There is a lot of talk these days about "Hidden" Hearing Loss." What is that? Here is a link to my blog on the issue:  https://www.linkedin.com/pulse/hidden-hearing-loss-mystery-monique-hammond
****
4/4/2017: Buying headphones for children? Some might not cut down on the sound loudness the way it is advertised.  Interesting read:  https://www.nytimes.com/2016/12/06/health/headphones-hearing-loss-kids.html
****
4/2/2017: Listening for long periods of time to overly loud music can cause permanent hearing damage. So how long can one listen to the MP3 player and at what volume? http://fauquierent.blogspot.com/2015/10/6060-rule-to-avoiding-hearing-loss-due.html
****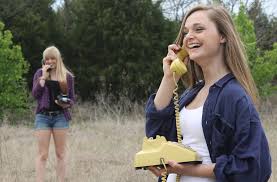 3/24/2017: For those who have trouble hearing/understanding on the phone, a captioned phone might be of help. Learn about it. One can "google" this information. Although I do not endorse any offers, companies or products, here are links that one might check on. Offers are often "free."
http://captioncallphone.com/?gclid=CP6w97fX8dICFVaewAodX6UA8g
http://www.captel.com/freecaptel/?offer_id=1&aff_id=1021&url_id=82
 *******
2/28/2017: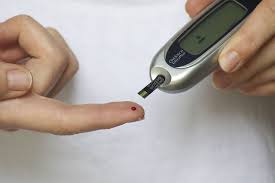 One of the often neglected consequences of poorly controlled diabetes can be hearing loss. How does this happen? 8 tips for avoiding it. Link to my Blog:
http://moniquehammond.com/diabetes-avoiding-hearing-loss
****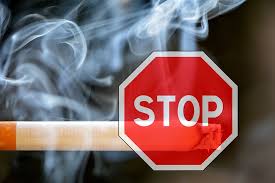 More evidence that nicotine and children's hearing do not mix.  Possible effects on the development of the auditory brainstem are very worrisome, indeed. Don't smoke or vape.  Also, keep the kids away from second hand smoke. Read on. Here is the link to the article:  https://www.sciencedaily.com/releases/2017/02/170213083815.htm
****
2/4/2017: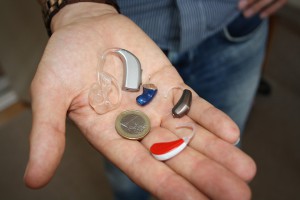 A Heads-up: In the interest of making it easier to get hearing help, the Food and Drug Administration (FDA) has removed the requirement that adults (18 and over) get a medical evaluation before buying a hearing aid. FDA is also considering allowing the over-the-counter sale of basic hearing aids. These  would sell for considerably less than the average $2300 per instrument that we currently pay. The less expensive aids are meant for milder cases of hearing loss.
It is hoped that these changes will encourage more people to get hearing assistance. Experts feel that self-treatment is less risky than no treatment at all. Those with severe and complicated losses will still need the more advanced, top-of-the-line hearing aids.
The information that we - the clients- must know will be included in the labeling of the instrument. So, we are responsible for reading and understanding the  details. Therefore, the more we know about hearing and the basics of technology, the better it is for us.
1/18/2017:  Bothered by road and car noise and traffic noise while driving? This makes conversations almost impossible for those with hearing issues. Hearing aid manufacturers try to deal with the situation. Here is a link to what  Starkey offers for their most versatile hearing aids. Interesting read. 
http://www.starkey.com/blog/2017/01/Using-Hearing-Aid-Car-Memory
****
1/3/2017: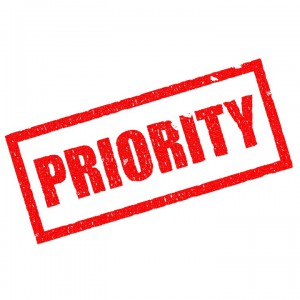 As a New Year' s Resolution, make Better Hearing a Priority in 2017: http://bit.ly/2hm5X6Y 
****
1/1/2017: To all who visit this page: Join me in 2017  to learn about hearing and hearing loss. Get new choices and empower yourself. That said, a Happy. Healthy, Safe and Successful  New Year to all!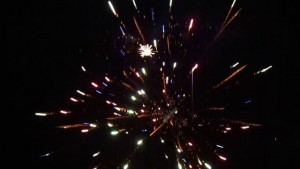 12/19/2016: Keeping deaf or hard of hearing children involved and entertained during the Holidays can be a challenge. Here are some suggestions from a mom.
http://www.hearinglikeme.com/5-holiday-sensory-games-to-play-with-your-deaf-child/
11/29/2016:  Hot on the Hearing Aid market is the wireless connection of the hearing aid to the iPhone. Widex is the latest company to offer the feature with the "Beyond".  Here is a link for learning more:  http://www.hearingreview.com/2016/11/widex-unveils-beyond-hearing-aid-advanced-connectivity/
11/11/2018: If you plan to buy hearing aids, get involved in your care!  (Learn the basics from my book: Part IV - starting with chapter 29) Also, here is a link  to my Phonak blog with tips for becoming an engaged Hearing Aid shopper:   http://www.hearinglikeme.com/advice-for-buying-hearing-aids/
11/1/2016: Medicare does not pay for hearing aids. How about Medicaid? It depends on where you live. Check your State:  http://www.hearingloss.org/content/medicaid-regulations
10/28/2016: New research for cochlear implants: Trying to keep inflammation down in the implanted ear while also preventing scar tissue formation.  http://www.audiology-worldnews.com/research/1758-new-research-shows-benefits-of-drug-releasing-electrodes-for-cochlear-implant-recipients
What are cochlear implants and how are they done? See the book Chapter 38.
10/21/2016: When buying hearing aids, ask about "assistive accessories." These can increase and/or improve listening/hearing. Take a look at this one:  https://www.phonak.com/us/en/hearing-aids/accessories/roger-pen.html 
9/16/2016: Hearing aid batteries pose challenges for many hearing aid users: manual dexterity for placing batteries into small and fragile battery pods, running out of supply, battery runs empty at inconvenient moments etc. Some manufacturers are now offering rechargeable hearing aids. Here is a link for such a product. Remember that I am NOT advertising, just offering information for choices and for discussion with hearing specialist.  https://www.phonak.com/com/en/about-us/rechargeable-os-technology.html
8/26/2016:  Might  relief be on the way for Tinnitus (Chapters 24-27 in book) and for Meniere's Disease (Chapter 23 in book) sufferers? The FDA is looking into some drugs that could help.
http://hearinghealthmatters.org/hearingnewswatch/2016/fda-tinnitus-drug-menieres-disease-pill-0803/
8/25/2016: Oh, my!  Thank you to all my readers! This morning my book "What Did You say?" was  # 3 in Amazon Kindle Store > Kindle eBooks for Health, Fitness & Dieting; Diseases & Physical Ailments; Hearing Problems. 
8/13/2016: Traveling with an implanted hearing system, such as a cochlear implant (CI), can be challenging. Here are some tips for getting through airport security and for  making the journey a lot easier.  http://www.medel.com/blog/traveling-with-a-cochlear-implant/
7/27/2016: Do we have power over preserving our hearing? Yes, we do. What is the best strategy? Reducing the noise in our lives - at work at home and at leisure.  For details on the devastation that noise can inflict on hearing, see Chapter 16 in my book. Here are some thoughts on the issue of calming the din.  https://www.linkedin.com/pulse/noise-abatement-good-hearing-health-monique-hammond
7/15/2016: Myths, or false beliefs, about hearing loss can really get in the way of people learning about their condition, seeking help and moving forward. Some  myths are downright dangerous as they are set-ups for ever greater injury. Although there are plenty of hearing loss myths, here are the top 5 that keep on being recycled and do not want to die: http://moniquehammond.com/hearing-loss-myths/
7/12/2016: As people with hearing loss, we are always interested in technology that helps us with following conversations or presentations. Captioning ( or transcribing in real time what is said  onto a screen so that we can read the spoken exchanges that we have trouble hearing) is very popular. Although I am not a techie and do not advertise products, there are those who might take a look at a mobile phone app called InnoCaption. According to their website innocaption.com  " InnoCaption is an App that provides real time captioning to your mobile phone using live stenographers for individuals who are deaf or hard of hearing."
7/4/2016: Many people with hearing loss might wonder about possible social security disability benefits. Hearing loss is a disability under the ADA (Americans with Disabilities Act). As expected, this can be a complicated and involved process. Getting some information ahead of time is a good idea. Here is a link that summarizes  the issues pretty well.
http://www.thesimpledollar.com/disability-benefits-guide/#social-security-disability-benefit-calculator
6/28/2016: Hearing loss is actually a chronic communication disorder and now and then I am reminded of that fact.  What used to be an engaging chat turns easily into a tiring task. Here is a link to a blog that I wrote about this precise issue: http://moniquehammond.com/hearing-loss-and-communication-a-tiring-task/
6/17/2016: Traveling is always a challenge. Noisy airports, announcements that sound pretty much like gibberish and then of course the TSA issues of all kinds. Here is a link with tips to make travel with hearing loss  a bit easier, especially for those with cochlear implants (CIs). What are CIs? See book pages 297 to 306, chapter 38.    http://www.medel.com/blog/traveling-with-a-cochlear-implant/
6/10/2016:  How and when should we clean our ears? What are safe ways to deal with earwax? There is a lot of conflicting information out there. Here is a link to what doctors feel about the issue. However, always check with your own doctor  first. Remember that if things do not work for us or if we have problems, he/she is supposed to "fix" it. http://www.entnet.org/content/earwax-and-care
6/4/2016: Instead of concentrating so much on how to deal with hearing loss or how to treat it, is it time to think about Prevention? Is it time to open up a dialog on the causes over which we have some control - such as noise? Some people-including myself- think so!  http://www.audiology-worldnews.com/news/1679-call-for-a-greater-focus-on-the-causes-of-hearing-loss   
5/27/2016: Interesting research. Is there a gene that makes the ears more sensitive to noise? It seems that there is. So, as we do not know if we are genetically predisposed, we have all the more reason to be careful in noisy places and to protect our ears wherever it is loud. Might as well not challenge that gene. The article might be a bit technical, but it is great to know that research into hearing loss continues:   http://www.medicalnewstoday.com/releases/302211.php 
5/16/2016: Yes, I am the sworn enemy of excessively loud sound. The damage is permanent, and I see all too often how it affects people. It is not a happy story.  Here is the link to my blog on the topic: http://moniquehammond.com/noise-induced-hearing-loss-tough-men-cry/
5/15/2016: Excessively loud sound is poison to the ears. (Book: Chapter 16, page 95). In the article featured if you click the link below, a sound specialist literally gives people a recipe for cranking up the volume of headphones louder yet. This at a time when we have children and plenty of teens who already suffer from noise-induced hearing loss - a struggle for the rest of their lives! Where has the voice of reason in journalism gone?
www.pressreader.com/u…/star-tribune/20160430/282514362729516
5/7/2016: Raising awareness on hearing loss and its often related speech issues is a priority year-round. However, May is designated as Better Hearing and Speech Month. What does that mean? Click and read  on:  http://moniquehammond.com/communication-may-better-hearing-speech-month/
4/29/2016: Excessively loud sound damages hearing. The numbers of those with noise-induced hearing loss are up in every age sector. So, why is noise so harmful? Where does the damage happen? For answers to this question, please see my book, second updated edition  page 95, Chapter 16: Noise-induced Hearing Loss.
Protecting ears from loud sound starts early: BEFORE birth! This article speaks to that issue.  http://pediatrics.aappublications.org/content/100/4/724.full
4/15/2016: Travel is getting harder by the day. Airports pose particular challenges. Too much noise! What did the gate agent just announce? How "accessible" are airports to anyone with a disability? Here is a link to a piece that looks at these topics: http://huff.to/1OjqCag 
4/7/2016:
Here is the link for today. An interesting read about advances in cochlear implant technology. Need the basics? Check my book pages 297-306. http://www.audiologyonline.com/interviews/mri-trends-and-med-el-15071
 4/5/2016 Big day! The second edition of my book on hearing loss "What Did You Say? An Unexpected Journey into the World of Hearing Loss," goes on sale on Amazon,  Barnes & Noble and MyBookOrders today,.
Hearing loss affects all aspects of life, as I found out the hard way. Sharing what I learned with others has become my  passion.
My mission has been, and continues to be to" Keep People Hearing Better Longer," and to "Save Ears Two at a Time,"
You may order a paperback at:
Amazon,  
Barnes & Noble or 
Buy the Book - from the Author
To order a Kindle, Nook or Ebook version please go to 
Buy the Book - from the Author
If you
The buttons for all these sites are located on the Buy The Book page above
Thank you,
Monique
Note: The news items are for information only. The author does not endorse any particular products or services.